Get to know beaver liquors
At Beaver Liquors our mission is to make sure you find everything you need while visiting our store. We achieve this by providing you with the absolute best possible customer service in a welcoming, friendly atmosphere with prices to fit every budget.
We stock over 10,000 different kinds of liquor, beer, wine and cigars including a huge variety of craft beer and spirits made in Colorado. Yes we do offer our famous Beaver Liquor t'shirts and swag in our adjoining store "Beaver Teez".
We support many local charities including The Eagle Valley Humane Society, The Eagle County School District, Eagle County Charter Academy just to name a few. We firmly believe in "locals helping locals" and strive to support our community at every opportunity.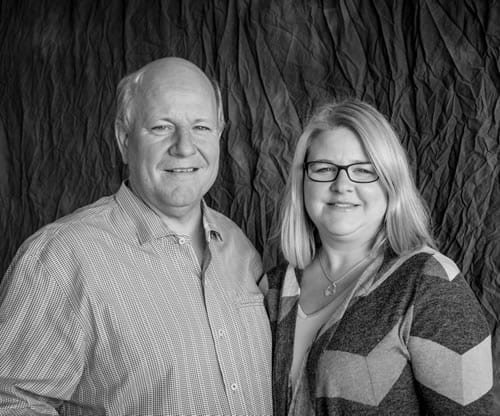 Beaver Liquor Owners David and Michelle Courtney
FROM YESTERDAY TO TODAY
Beaver Liquors has been family owned for 40 years and is the largest wine and liquor store in the Vail Valley. Original owners Rick Cuny and Louie Jordan opened Beaver Liquors in January of 1977 under the name of Benchmark Discount Liquors. In 1980 with the opening of Beaver Creek on the horizon Rick and a bunch of guys were sitting around thinking of all the names with "Beaver" in it. Rick said "Beaver Liquors" and everyone said that's the best one! With a DBA (doing business as), trademark and business license Beaver Liquors was born! There were some controversy and letters to the editors which gave some publicity and helped fuel the business. A vast majority of people have a sense of humor and that's the way it was intended", Rick Cuny.
In 1999 Rick and Louie pondered retirement and stumbled upon David Courtney. David was a local wine rep that offered weekly wine tastings in Rick's Beaver Liquor t-shirt store. David's hustle and drive impressed Rick and he offered him a sweat equity partnership. In 2007 David and his wife Michelle purchased Beaver Liquors continuing the tradition of providing the Valley with outstanding selection, service and naughty t-shirts.
Continuing Superior Customer Service
LOOKING AT TOMORROW
Beaver Liquors continues to grow and improve in all ways possible. We encourage our employees to:
Further their knowledge of wine, beer and spirits through sommelier courses.
Participate in industry wine tastings and events.
Take advantage of educational travel.
In the years to come, we will hold true to our dedication to local causes and continue to provide the best customer service and outstanding selection of wine, beer and spirits in the Vail Valley.